TESTIMONIALS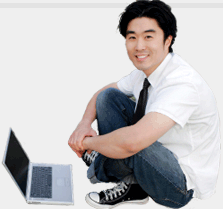 At DomainIt, our customers' satisfaction is our number one
priority. See what people are saying about our constant strive
to meet and exceed expectations.
Joe McCabe - McCabe Education Services
Thank you very much for your prompt service.
If I'm getting any other domains I'll register with you. I'll also put a link on my site and let people know what a good service you provide.
Don Michael - Michael's Damage Appraisers
I have purchased a few domains. This is the first time I have used you. You have the most user friendly operation on the web. Your form is precise and you don't feel like you are guessing at what you want. Your response was very quick and efficient. When I finished with your form, I felt my order was processed. I thank you for your service. I have your web site book marked.
Daniel Oswald
I am a "two-time" customer of Domain-It! and have been completely satisfied with your services. As an instructor of Educational Technology, I refer your services to all my students and cite Domainit as the paradigm for URL registration companies.
Thomas
Thank you for such excellent follow through and great service!! I realize how difficult it is to get a hold of me and you did your job well!!...I hope my employees are as dilligent as you!!
John
This is my second experience with you guys and I have to say I'm impressed with your customer service and responsiveness. Everyone I've dealt with there has been great.
Brian Wright - Proprietor, TheCoffeeCoaster.com
One of my main reasons of going with (and staying with) DomainIt is the level of human support I have received from the gitgo. The CSRs are uniformly responsive. They work with me as my technical knowledge increases as default Webmaster for my opinion and commentary site. Often, support is germane to improving my traffic flow and business.