Company Overview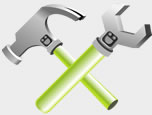 In addition to our Domain Suggestion Tool, Whois Search, and website promotion and marketing tips, DomainIt offers a variety of free miscellaneous tools and resources to help people further enhance their Internet experience.
Interested in international domains? We provide a list of over 200 country domain name extensions, and links to check the availability of country code top-level domains.
For your Internet expenditures, traveling reference, or just your curiosity, DomainIt also offers a currency converter. In just 3 easy steps, our Currency Converter converts currencies from around the world - everything from the Afghanistan afghani to the Zimbabwe dollar.
Brush up on your web lingo with our glossary of web terms. Words A-Z defined, beneficial to everyone from beginners to pros.
Whether you think you've mastered keyboard shortcuts or you've never tried them, our keyboard shortcut guides are sure to teach you something. Using keyboard shortcuts can increase your online efficiency and enhance your computing and Internet experience, and our guides provide an easy reference to help you learn.
Prevent spam robots from taking your text, data, email addresses, or URLs. Using our text encoder will make the majority of spam robots unable to recognize your encoded text, but your visitors will not see any difference.