Company Overview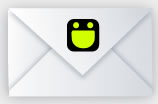 DomainIt offers three affordable email plans, starting at just 83¢ per month.
All of our email plans include WebBasedMail service so that you can access your email from anywhere in the world, with a browser and an Internet connection.
Your email address can be fully personalized to "Whatever-You-Like@yourdomain.com", plus you'll have access to your own custom control panel in order to create, modify or delete additional email addresses whenever you like, in real-time. We're always happy to help, but you're in full control!
In addition to ample storage space, additional email forwarding addresses, POP3 and IMAP support, all email plans also include customizable spam and virus filters, which provide added protection for your inbox and computer.